The Bookbinding Studio MARUMIZU-GUMI is founded by a Bookbinding expert, Nao Inoue.
Main businesses are order bookbinding production, providing hands-on lessons and sales of binding materials and tools.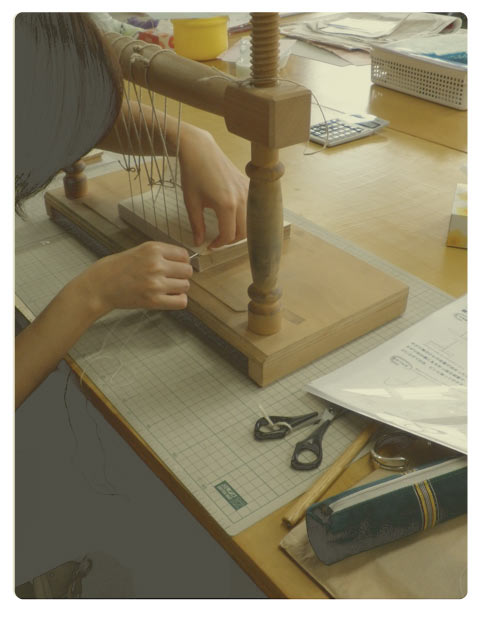 Our Mission
MARUMIZU-GUMI will continually strive to offer the high quality bookbinding materials/tools, techniques and services to all bookbinding lovers.
We make books using advantages of both industrial bookbinding and hand-craft techniques, as well as traditional bookbinding techniques.
This is because we would like to make the most of the goodness of hand bookbinding technology, which matches the current life style,
and we would like to spread it.
■Business Operations
Import and retail and catalog sales of hand bookbinding materials.
Order-made wedding albums and original product development, production, and retail and wholesale
Order-made menus
Holding of hand bookbinding classes and training of hand bookbinding craftsmen
■ Copyrights
The copyright holder for all of the copy, photographs, illustrations, text, and other contents contained in Marumizu-Gumi is Nao Inoue of Marumizu-Gumi.
The contents cannot be used without the permission of the copyright holder.
Persons wishing to introduce, reference, reprint, or otherwise use the contents are asked to first contact Marumizu-Gumi.
This does not apply to the personal use of the contents by customers.
■ Personal Information
Personal information obtained by questions, orders, or other inquiries sent to Marumizu-Gumi will be properly managed.
In addition, personal information will not be disclosed to a third party without the permission of the customer.
However, this does not apply to disclosure required by law or by governmental organizations.
■Indemnity
Marumizu-Gumi shall not be held responsible in any manner for and damages (direct or indirect) sustained by the customer through the use of MARUMIZU-GUMI.